Small groups are a unique environment where individuals meet weekly to openly engage in spiritual discourse, encouragement of one another, and be moved toward personal application of what the Lord is teaching them. Each type of gathering (large, medium, small) contributes uniquely to the needs of the individual and the overall purposes of the Church (Sunday Worship, Flock Groups, and Small Groups). While Sunday Worship and Flocks minister broadly, and thus expected for all, Small Groups are designed to meet the specific needs of each individual. Thus we encourage each person to engage in Small Groups according to where they most need to grow.
Reflecting upon previously taught truths, engaging in spiritual discussion, and applying spiritual truths to life to promote spiritual growth, fellowship, and maturing of all participants. 
These groups meet in a host home to discuss the sermon questions posted in the bulletin each week. 
Jeff Ferguson
918-232-8492

Beau Rotramel
918-891-8020
Growing in spiritual maturity, building relationships, and sharpening Bible Study skills by collectively digging into God's Word to deepen knowledge, understanding, and appropriate application of a particular section of Scripture.
These groups meet at BCO and various host homes.
Terry Devitt
(918) 693-6955

Geoff Wiszneauckas
(480) 239-3027

Kathy Finster
(918) 340-8046

Deanna Barnes
(918) 894-8308

Norma Calvert
(918) 856-0296

Marcia Perry
(918) 231-6449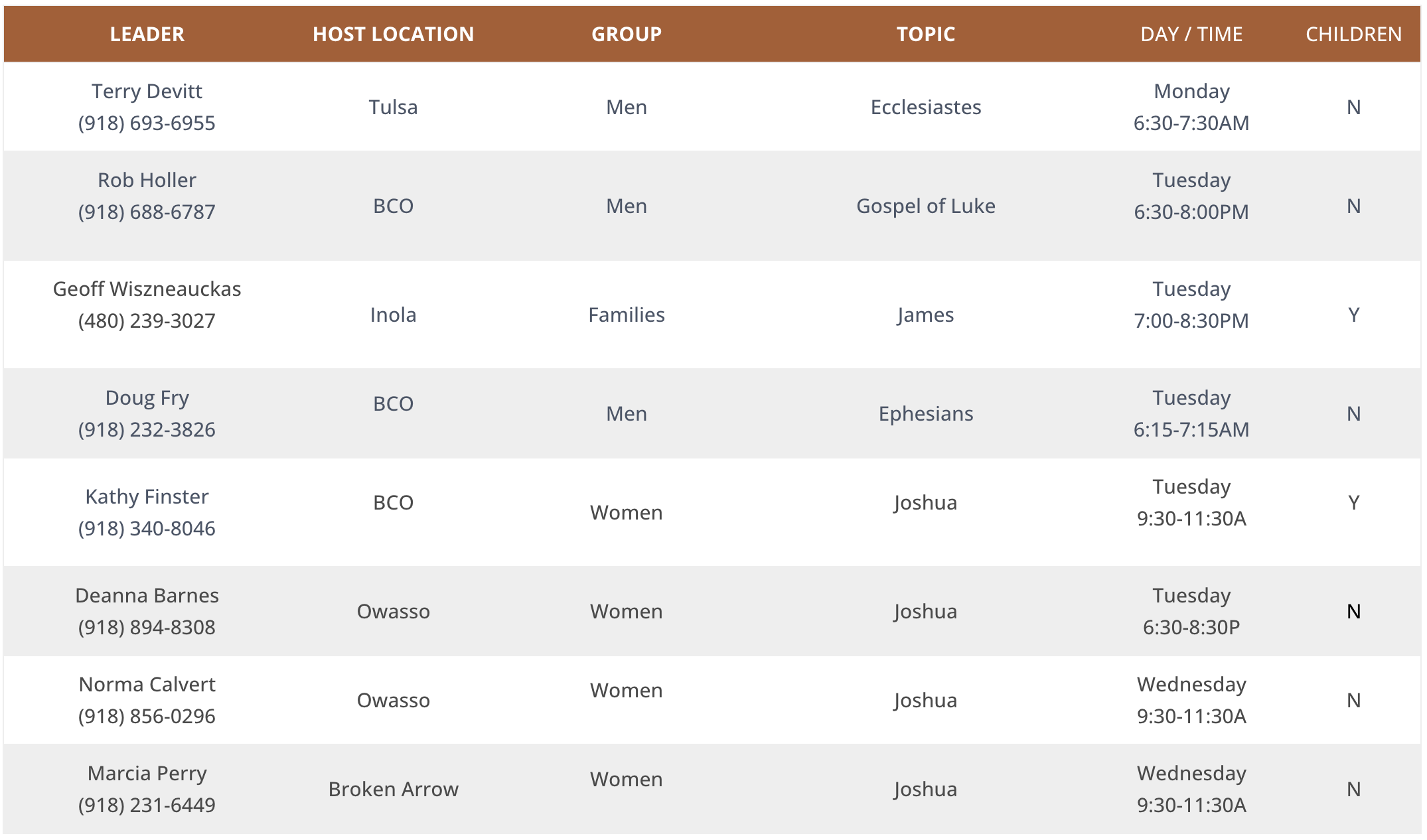 Focusing targeted attention on a particular theme or responsibility in Scripture in order to bring that area more fully under the Lordship of Christ, along with encouraging and assisting others to do the same. 
These groups meet at BCO and various host homes.
Andrew Ramos / Max Megee
(918) 291-9666